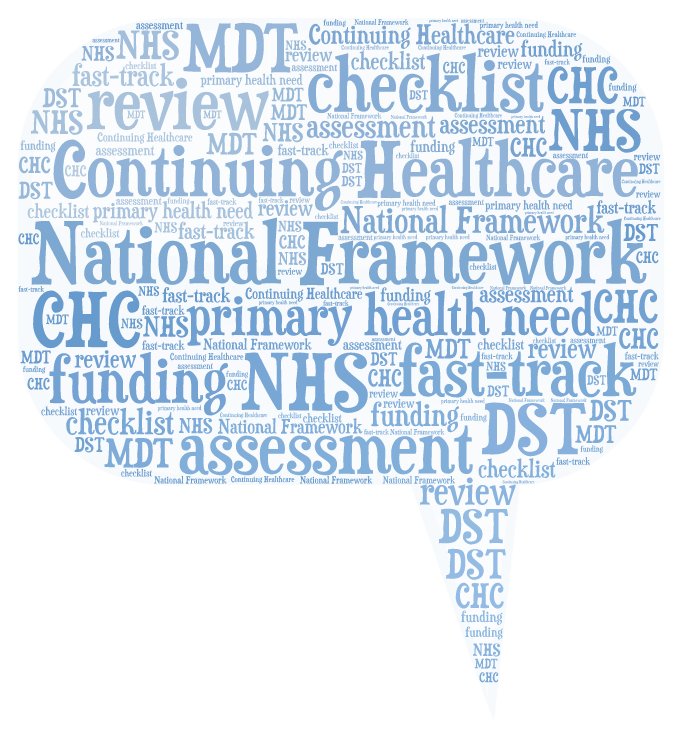 If ever I needed it the evidence that Maureen needed CHC  it was before my very eyes and ears in bucket fulls yesterday.  In the morning the singing and laughter from Maureen and Girl Thursday Morning almost drowned out the noise from our plumbers.  I went out in the afternoon and  Girl Thursday Afternoon told me 'we've been singing and baking' – I sampled the fairy cakes as soon as I got the chance.
My brother is on Continuing Health Care in a Nursing Home: supposedly one to one support to meet his needs.  He is well cared for and it is clear there is lots of TLC on offer for 'Our Kid'.  He lives in a busy place where the demands on carers consistently outstrip their ability to meet the needs of the residents.
Maureen is on what I would call Continuing Home Care.  Her visits to Care Homes have not gone well and the care has hardly been person-centred.  This is no cricism – how on earth could they get to know her when she is only with them for a short while?  How could anyone expect carers to prioritise the occasional visitor when their regulars provide their bread and butter?
The building work to make this Care Home fit for purpose is slowly drawing to a close.  Three months is a long time for anyone to have workmen on site.  It isn't surprising that Maureen hasn't occasionally wanted to run away from being 'upside down' as they say around here.  There have been times when I have doubted the wisdom of living in turmoil; not knowing how long power or water will be off or scaffolding will be in situ.  However, when I remind myself of the hilarity coming from our lounge or the sweetness of the fairy cakes: no gain without pain comes to mind.
What I'm now hoping is that those who live by Mental Capcity Act will review their approach.  We will always be renegades – wanting to explore new territory.  We will never accept that prescribed Care Pathways are always solutions for those who are living with dementia.
Our journey is just that: trying to fit us into the ways that others want us to go is not going to work  and can never be in Maureen's Best Interest!
I believe I have made some progress to deal with the frustrations I expressed yesterday.  Unfortunately, nothing is cut and dried but I'm optimistic that some things will soon shift in our favour.  What was heartening yesterday;  when I spoke  to Kelsang Dorde about my plan to visit the Madhyamaka Centre  next week he immediately offered to change his teaching to that lunch-time.  A real act of kindness and so typical of this lovely man: a 'no-brainer' for him of course!