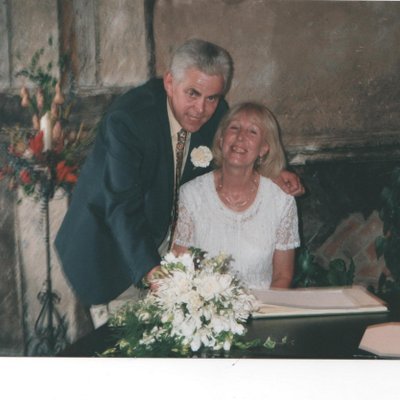 Today is our wedding anniversary: it's 19 years since we tied the knot.
From our perspective Wedding Day by the BeeGees says it all:
However, Maureen's viral infection is still in full flow and impacting upon her presentation.    She 'wanted to go home' yesterday and it took me over two hours to shepherd her back home.  There were also several times during the day when her behaviour was either very challenging or puzzling.   Her confusion about how to use the toilet has surfaced again and will have to be addressed if it continues.  It was worrying that the bathroom floor was extremely wet as I turned in for the night.
The daily challenges continue to arise but that does not lessen my resolve to live together as husband and wife.  Our newly extended house should be the only Care Home we will ever need.
On our Special Day, our approach will be no different to any other year.  We don't  give each other gifts: I have always said Maureen's presence is my present!
Update at 3.15am:
I drafted the above before turning in last night.  Maureen has been awake for the last half an hour or so.  She is looking after four children: talking to them incessantly as they follow her around our house.  She has just taken them all to the toilet.  It will be interesting to see the state of the floor in the utility room when they have finished.
I hope I can find where have I saved that article on hallucinations and delirium!