Maureen was reluctant to come to be again last night.  At 10.30 I decided to leave her to it and made my way to the spare bedroom.  She came upstairs at 11.30 and I joined her in the marital bed – an hour later she decided to return to the sofa so I went back to the spare bedroom where the receiver of the baby monitor resides.
Around 2.30 am I could hear a lot of activity downstairs and went down to investigate.  I whistled (my call sign) as I tentatively opened the door to the lounge to find my smiling wife on her feet.  As I greeted her I mentioned how good it was to see her and noticed that she had her PJ bottoms over one of her favourite pairs of trousers.
We have just spent the most enjoyable couple of hours together.  She is 3 -2 up on the 'Sock Hunt' with those in pairs waiting for a rinse later in the morning.  Despite my best efforts I cannot make any impression on her lead.
Our conversation around our struggle to find 'fick socks' has been light hearted and really positive.  Maureen has mentioned several times how helpful the Ladies (our carers) are: a really positive development compared with the norm.  We have decided that Gail will return to her seamstress role this morning; possibly altering some of Maureen's summer-wear in anticipation of warmer weather.  As the car is laid up for a while (on the advice of yesterday's advice from my Counsellor) Chloe will be our 'Shopper Lady' tomorrow and I have encouraged Maureen to start making a list of what we need.
We had a lovely surprise yesterday as Lisa sent us a video clip of Mala playing Eidleweiss on her flute.  I will transfer the clip on to my computer today so Maureen can see how well Mala plays one of her favourites from The Sound of Music.  Maureen is spoiled for choice with her response she is either going to send a song or a post card in response to this act of kindness. The sad thing is that Maureen has forgotten that my eldest daughter and her family were here on Friday but she is keen to visit Lisa on her birthday in a week's time.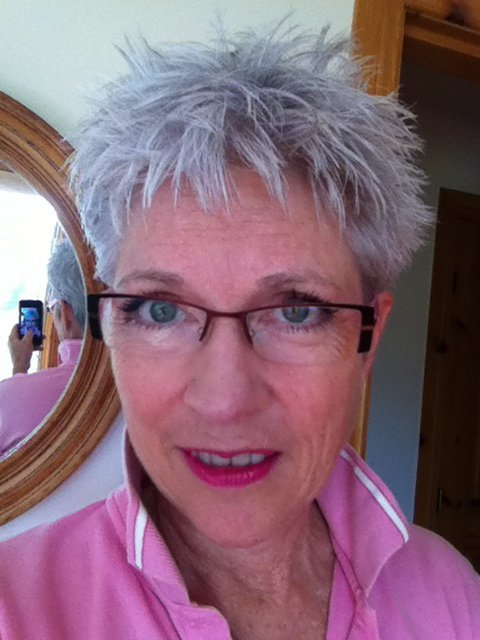 There is no doubt that Maureen is responding well to the new regime here.  Yesterday afternoon she show real joy by initiating a dance in the garden.  I'm so fortunate to have expertise at hand to coach me on her presentation.  Amazing Susan (pictured right) and Sue our social worker deserve real credit for encouraging me to focus on potential rather than a safety-first approach to Maureen's presentation.  I will EMail Sue our social worker this morning and thank her for holding my hand on Tuesday as Maureen went looking for the children who had been her car.  All I can do for Ms Macaulay (in the USA) is acknowledge she really is Amazing Susan and that Teepa Snow would be proud of one of her disciples.
As I finish this post I have just had to deal with an attack from 'Mrs Dementia' who has accused me of evading her question about 'where have they all gone'.  Maureen is frequently troubled about being left here when the others have gone out.  It's now 6 am and Maureen is refusing to speak to me and has walked away as I tried to use physical contact to help her feel secure.  Ten minutes later and she has taken to the sofa: sleeping it of usually banishes Mrs Dementia for a while.
Another day beckons on our journey with many twists and turns likely today.  How fortunate I am that there is always all sorts of expertise at hand -some of it amazing – to help me find my own way of being a supportive Care Partner.
Silly Mistake
This post is later than normal this morning because I didn't take the Baby Monitor with me when I was chatting to my next door neighbour.  My misjudgement caused Maureen utter distress as she thought she had been locked in and left alone.  It is possible that I will need a more sophisticated model that enables communication when I am not in sight.  Her presentation is changing so rapidly at the moment that I need to continually evaluate whether our set up is supportive of causing unnecessary distress.  I also need to keep the Baby Monitor receiver within ear shot whenever I'm out of sight and she is resting on the sofa!